Powered by ALVISSION – The first PMI DA Authorized Training Partner in Europe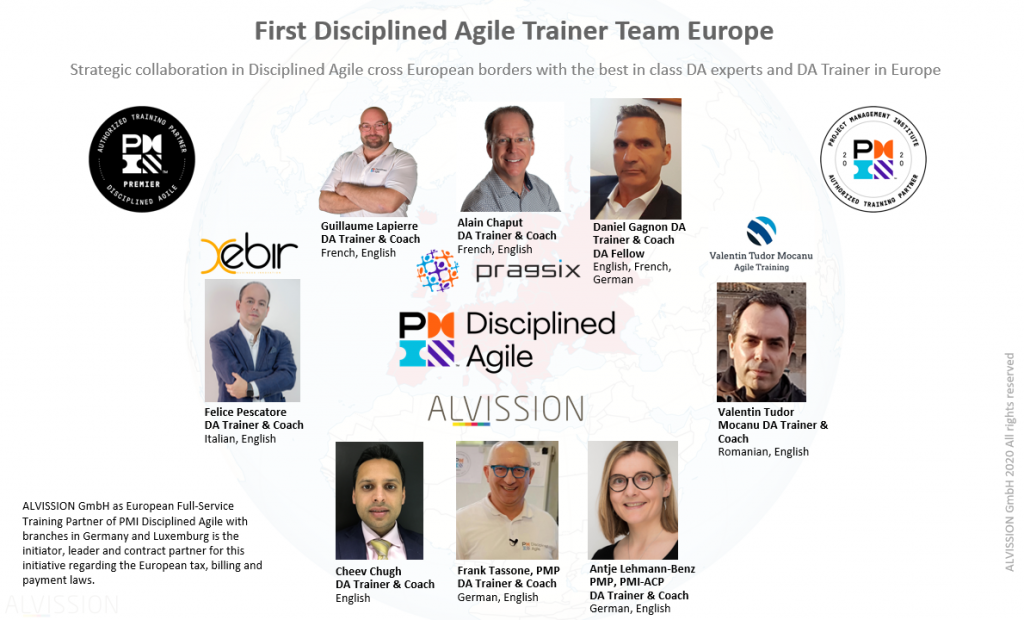 ---
---
The DA Trainer and Coaches Team Europe offers services in different languages with an international DA expert network
Training
Coaching
Consulting
for your successful Digital Transformation.
Ask us for individual service offer via agile@alvission.training
---
Disciplined Agile Certification Path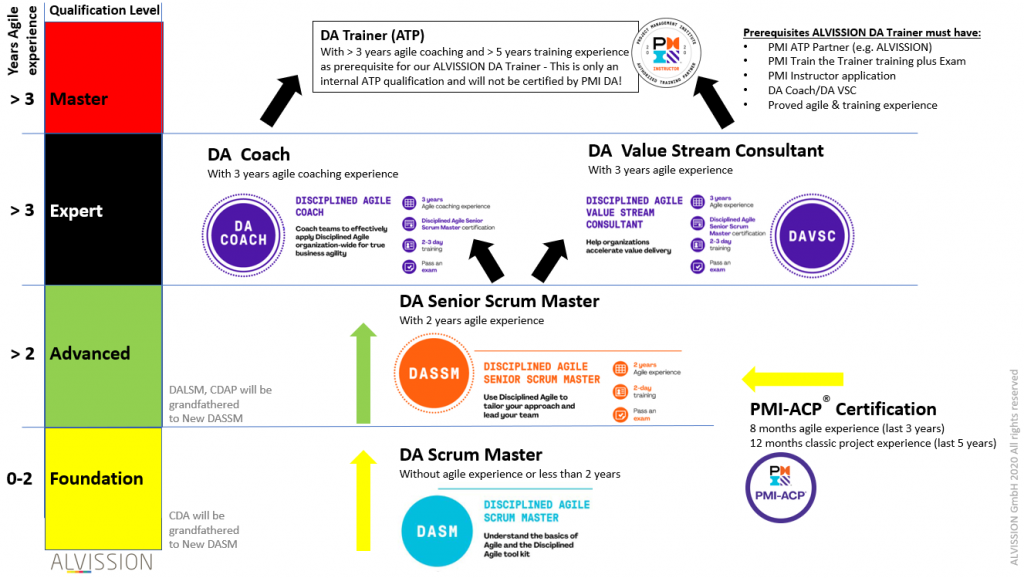 Please be aware that the prerequisites for the DA Trainer qualification are self-defined requirements from our DA Europe Team. This is more than PMI defined as prerequisites.
---
Training dates and languages December 2020 & Q1 2020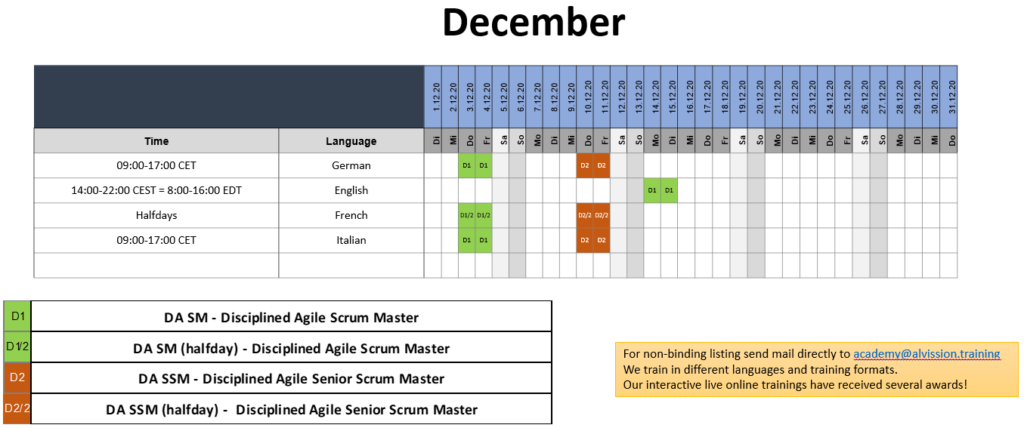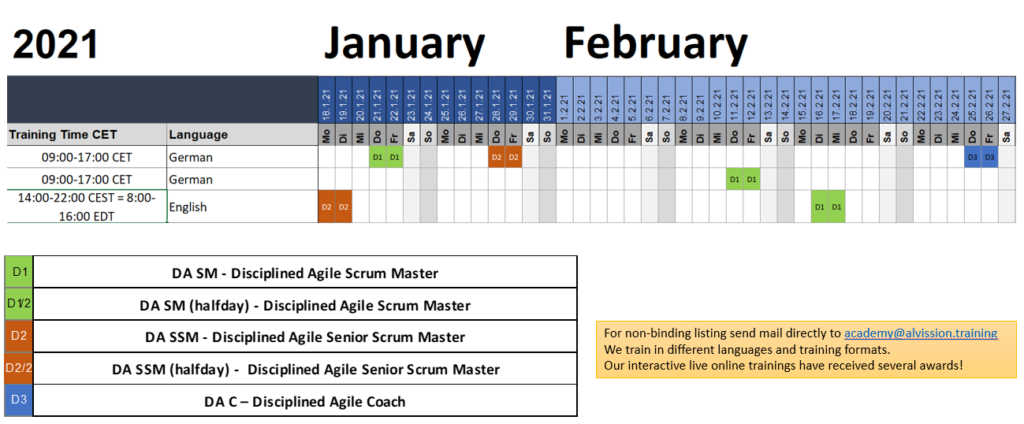 Start your Disciplined Agile learning path with our Best in Class Live Online Trainings in Central Europe Time Zone.
Apply for our PMI Discounts and Flexibility Bonus program. If you are flexible you will earn money. After your application we will offer you different training dates for your certification level and we will list you. After the class is complete (up to 6 students) we will send you the approval of the training at least until 2 weeks before.
DA Europe Training Registration Form
"Choose your way of training!"
select your language and certification levels and then apply for the New DA Training program.
---
PMI Chapter Member benefit – Example pricing model for DASM & DASSM Trainings @ ALVISSION
The business training fee is for the 2 days DASM & DASSM Live Online Training the same price of 1000,- Euro plus VAT (16 % until 31.12.2020) per trainee. If applicable you will get further discounts as described.
E.g. until 30 % discount for PMI Chapter Volunteers and PMI Chapter Members. See below.
Please find here the pricing model and training fee calculation as example. The final price will be calculated and offered officially after the check of your application discount data.
We are aware of the differences in local earnings and taxes in Europe. Therefore we will calculate some of the final training fees in local prices. E.g. the trainings in Romanian language are cheaper than many other country fees.
For inhouse trainings up to 6 students in Live Online or In Person please send your request directly to academy@alvission.training for a special offer.
---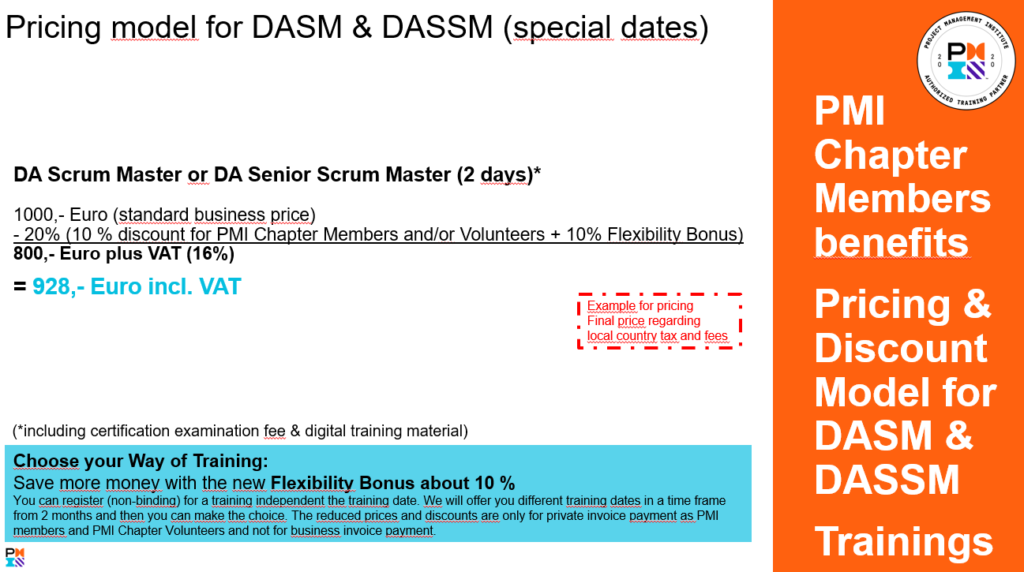 ---
"We train people with our highly interactive formats from our live online training studio in Germany and from our trainers' virtual classrooms"
---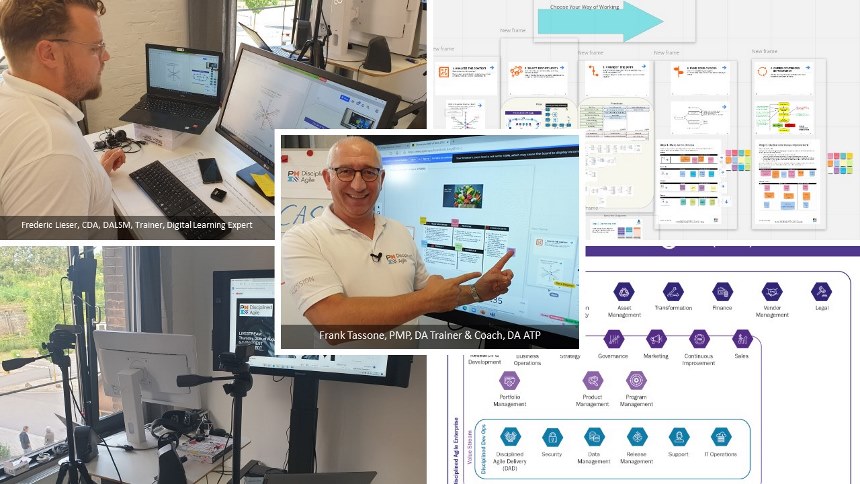 ---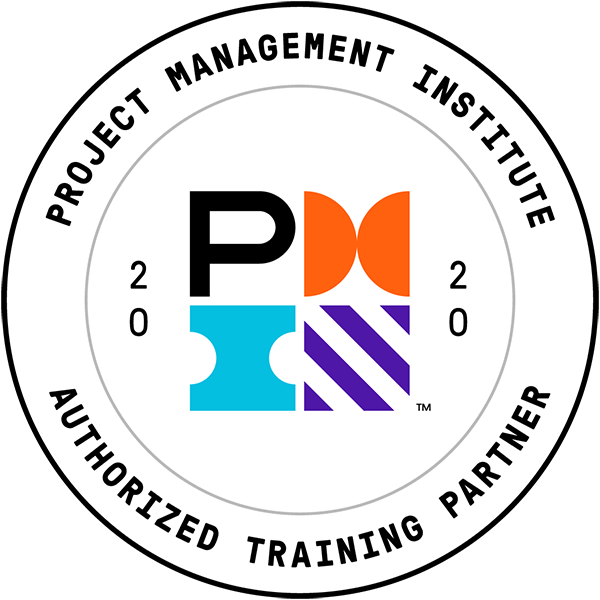 ---
CONTACT
ALVISSION GmbH
Europaallee 27 d
D 66113 Saarbrücken
(Germany)
Phone: +49 (0) 681 410 964 81
Mobile: +49 (0) 171 684 55 61
E-Mail: office@alvission.training or for training requests academy@alvission.training